Welcome to Chronicles of Narnia Fanon Wiki
The fanfiction wiki about the Chronicles of Narnia that
anyone can edit
.
Please check out the rules of the wiki here before you contribute.

558 articles since May 9, 2009.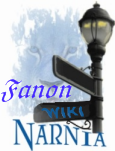 Featured article
Dwaves are a race of short, men-like humanoids. Their sizes range to at least 2 to 3 feet tall. When the world of Narnia was made, Dwarves were called the Sons and Daughters of Earth by Aslan, creator of Narnia. This shows that Dwarves live in the underground mountains. Dwarfs exist in at least two varieties: Black Dwarfs and Brown Dwarfs. The Black Dwarves appear to be more selfish and warlike. Their beards (except for the females) are black. Though, female black dwarves always have black hair since they are called Black Dwarves. These ones are described to be a ugly since their noses are long. The Brown Dwarves are kind and loyal to Aslan. Their beards are the color brown, and described to be very beautiful then the Black Dwarves. They have been known to breed with humans to create half-dwarfs. They live in the country of Narnia. It is said that the Dwarves share a common ancestory with the elves.
Featured Land
Disfas, (pronounced: Dye-faa) is a medium sized continent that lays to the south of Narnia . It is a three month journey for even the fastest of all ships. The climate of Disfas is tropical. It's average temperature hovers around 80 degrees and the hottest it gets is 120 degress. However it is much colder in the mountains Disfas is dominated by lush rainforests, and massive mountain chains. It also has a great many of white sand beaches. Disfas' mountains have rich amounts of natural resources such as iron,and copper. The continent suffers from hundreds of meteorite impacts every year, but this also serves as the most abundant source of starsteel.
What's going on?
May 10, 2009
May 14, 2009
May 17, 2009
December 7, 2010
December 20, 2010
Featured User
Slyhades99, with Special:Editcount/Slyhades99 edits, has been on the wiki since October 23, 2010. He has recently adopted the wiki, becoming an administrator and bureacrat. He has helped the wiki by creating and editing articles like: Rodney Matthews, Dwaran, Cornilium and Edmund Pevensie II. Good work Slyhades99!
Contribute to this wiki
To write a new article, just enter the article title in the box below.
<createbox> width=24 break=no buttonlabel=Enter the world of Narnia </createbox>